The Clear Crew is sharing their go-to recipes.
We're ready to dig out the big pots and start making some chili, and here's a look at how we'll be cooking it.
We might as well start with Jamie Mac's award-winning recipe…and "award-winning" isn't just hype. JMac has the hardware to prove it! (It also recently won the Zimmer Radio & Marketing Group Halloween Chili Contest!)
2 lbs stew meat.. light seasoning salt before put on skillet
1 lb ground sirloin
1 red bell pepper
1 green bell pepper
1 white onion
1 jar of (medium) Green Mountain Gringos Organic Salsa (Hyvee)
1 jar of (mild) Green Mountain Gringos Organic Salsa (Hyvee)
1 29oz can of Hunts Tomato Sauce
1 can "original" Rotel
¼ cup Morton's Chili Powder… can use Spice Island for a sweeter taste.
1 tbsp Garlic Powder
1 tbsp White Pepper
1 tbsp Black Pepper
2 tbsp Kosher Salt
Cook 6-8 hours on low in crook pot. I usually let vegetables/sauce/salsa/first dump of spices cook for hour before adding meats so veggies become more tender. I've heard of people who will put veggies in skillet before adding to get a little caramelization to them.
For best results… Dump all of seasoning in one separate container and add 1/3 at beginning 1/3 about 2-3 hours into cooking and 1/3 during last 30 minutes.
Let cool a bit and eat.
Aric's (Really his wife Brandy's) Meatless Chili.
We were a bit skeptical at first, but it's really good! In fact it won a big chili cook-off in Texas. Meatless chili in Texas, can you imagine!?
(Click here for the Pinterest Link)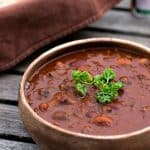 Best Damn Instant Pot Vegan Chili
Ingredients
1

large

onion

chopped

1

red

bell pepper

diced

1

green

bell pepper

diced

3

cloves

garlic

minced

8

oz

Seitan

optional OR

2

cups

Cauliflower Crumbles

optional

8

oz

Mushrooms

optional

2

cups

water

1/2

tsp

garlic powder

1/2

tsp

black pepper

1

tsp

paprika

1

tsp

oregano

1

tsp

chipotle chili powder

optional

2

tsp

ground cumin

1/4

cup

chili powder

1

15oz can

pinto beans

low sodium

1

15oz can

kidney beans

low sodium

1

8oz can

tomato sauce

low sodium

1

15oz can

diced tomatoes (fire roasted)

1

6oz can

tomato paste

2

Tbs

Masa Tamale Flour
Instructions
Chop all vegetables and add to IP

Lightly saute vegetables in a small amount of water, veg broth, or bean juice (aquafaba) until softened

If using – add seitan, cauliflower crumbles, or mushrooms for a meat substitute. Note: All of these are optional and you could just add another can of beans.

Add water and all spices except Masa and stir well

Mix in beans and stir well

Add tomato sauce and diced tomatoes to TOP of stew and DO NOT STIR

Add lid to IP and set to MANUAL mode for 10 minutes. Allow to naturally vent when completed for 10 minutes before CAREFULLY releasing any additional pressure

Stir in tomato paste, any last minute garnishes, and Masa flour.

Let rest for 10 minutes to thicken, stirring occasionally
Josh Ryan's Simple But Good Chili.
Josh spends a fair amount of time in the kitchen, and at the grill, cooking for his family. In fact, he was actually making this when we reminded him he needed it! Josh says this is literally his easiest recipe.
1lb ground beef
1 chopped green pepper
1 chopped onion
1 can diced tomato
1 can tomato sauce
1 small can tomato paste
1 can chili beans
McCormick Original chili seasoning packet
Brown the ground beef with peppers and onions. When done browning, drain excess fat. Mix with tomatoes, sauce, paste, beans, and seasoning. Simmer for hour and a half. Salt, pepper to taste.
Scotty's Turkey Chili.
Scotty says he fell into his "secret ingredient" for chili. "I was having a salad with Catalina Dressing and thought that the tangy taste might be good in chili. So I tried it & liked it."
Ingredients
1 tablespoon vegetable oil
1 pound ground turkey
2 (10.75 ounce) cans low sodium tomato soup
2 (15 ounce) cans kidney beans, drained
1 (15 ounce) can black beans, drained
8 0z Catalina style dressing (I use the lite)
1/2 medium onion, chopped
2 tablespoons chili powder
1/2 tablespoon garlic powder
1/2 tablespoon ground cumin
1 pinch ground black pepper
1 pinch ground allspice (I seldom have allspice so this gets left out a lot)
salt to taste
Directions
Heat the oil in a skillet over medium heat. Place turkey in the skillet, and cook with chopped onion; drain.
Coat the inside of a slow cooker with cooking spray, and mix in turkey, tomato soup, kidney beans, black beans and dressing. Season with chili powder, red pepper flakes, garlic powder, cumin, black pepper, allspice and salt.
Cover, and cook 8 hours on Low or 4 hours on High.